A BUFFALO IN THE HOUSE
Creating "Back From the Brink"
Charles Goodnight is best known as a cattleman, but what may be his most important legacy came to light in the late 1990s.  This very legacy was initiated by the compassion and vision of his wife, Mary Ann Goodnight. From 1878 until their passing, the Goodnights devoted their lives to bringing bison back from the brink of extinction.
The Goodnights settled in the Palo Duro Canyon in 1876, during the height of the great buffalo slaughter. Mary Ann revolted against the senseless slaughter, and finally persuaded her husband to protect the small number of buffalo that had taken refuge in a corner of the Palo Duro Canyon. Goodnight's cowboys roped two calves and brought them to Mary Ann to care for. These two calves were the beginning of the Goodnight herd.
Progeny from the herd helped to rebuild the bison population across the United States, including the herd in Yellowstone National Park. After Charles Goodnight's death in 1929, the bison again reverted to the wild in the Palo Duro Canyon. The herd was rounded up during the winter of 1997/98 and DNA tested before being placed in their new home at Cap Rock State Park. To everyone's amazement, it was discovered that Goodnight's Bison herd was DNA unique from the bison in the North. The Goodnights had inadvertently saved an entire subspecies from sure extinction.
Ancestors of the calves Mary Ann bottle-fed, are now protected forever in Cap Rock State Park.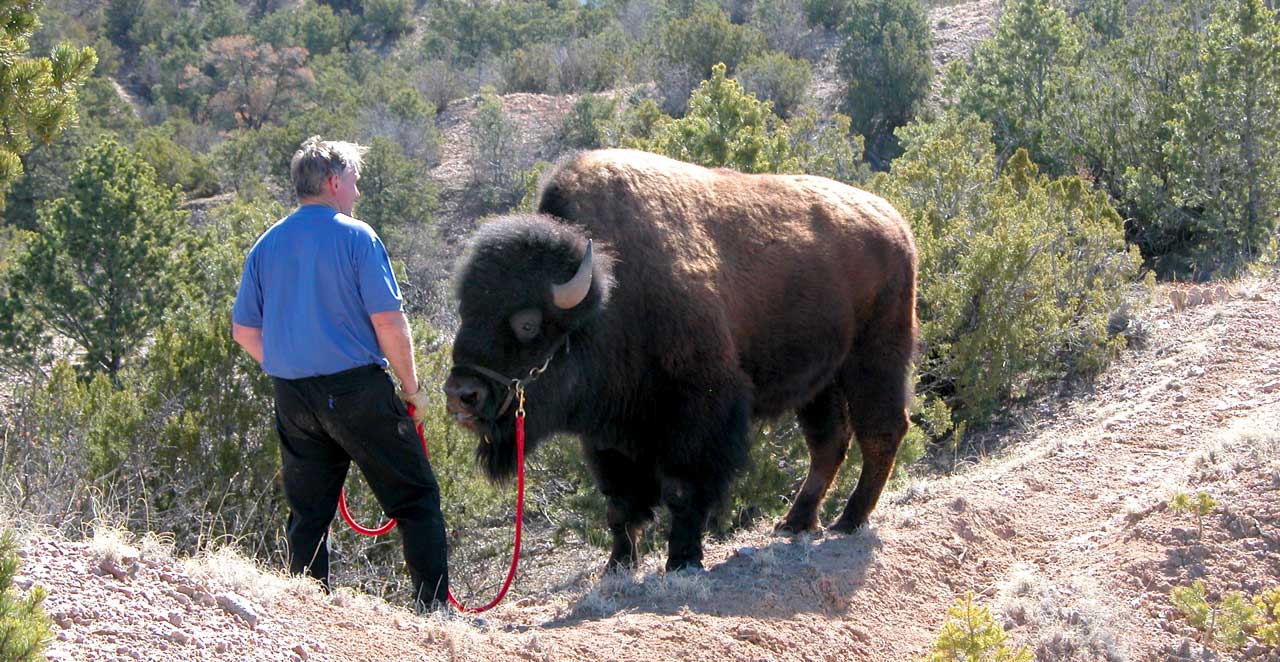 "I created "Back From the Brink" 10% over life-size from the smaller working model. A casting of this monument is in three different Texas museums to help tell the story of how Charles and Mary Ann helped bring bison back from the brink of extinction."
– Veryl
When I learned this story, it was mine to sculpt and I set out to borrow a bison calf to create "Back From the Brink." We flew Charlie Buffalo from Idaho to our home in Santa Fe when he was 7 days old and thus began our own remarkable journey.
Charlie Buffalo modeled as the two calves wrapped protectively around Mary Ann Goodnight while she bottle fed one and stared into the distance, confronting the ruthless destruction of the time. The events that followed, became a full-length book by Richard D. Rosen, titled A Buffalo in the House. (Available on Amazon)