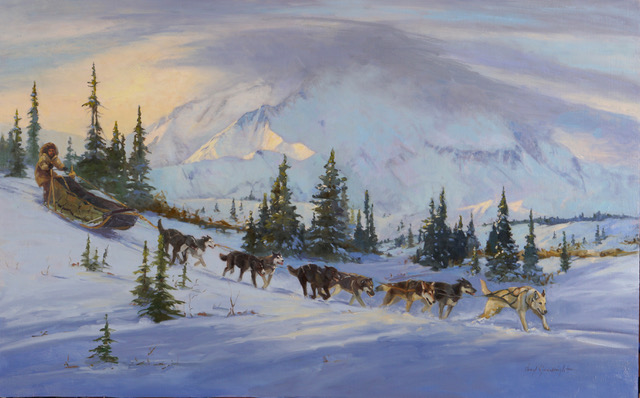 March 2019, Denali National Park, Alaska
Fellow artist Ralph Oberg and I landed on iced over Wonder Lake and were met met by Brian Taylor and his powerful team of freight dogs. For four days they hauled us along the same approaches used by Harry Karstens, Walter Harper, and Hudson Stuck during their successful 1913 summit of (then named) Mt. McKinley.
Not much has changed since that first ascent of the highest peak in North America, 20,310 foot Denali – except restoring the mountain's native name. Dog teams are as essential to climbers today as they were for that first climb. Brian and his team provide support by hauling 1,500 pounds of climbing gear onto the Muldrow Glaciar each March to ease the burden for the summer climbers.
"No Time To Spare" is the second painting of my Denali Suite. Brian's magnificent team, led by Hammer, "The Little Yellow Lead Dog," were unforgettable as they descended at a full run before the incoming storm on the great mountain.
"No Time to Spare"
Oil
30 x 48
Price on Request