SLED DOGS IN AMERICA
SLED DOGS WERE TO THE NORTH WHAT THE HORSE WAS TO THE PLAINS
An artist's creative pursuit is an exciting journey into the unknown. Discovering the many crucial roles sled dogs and their drivers played in history
became just such an adventure for me. Once I realized both the time and geographical scope of our partnership with dogs, I began painting with a mission to share their story.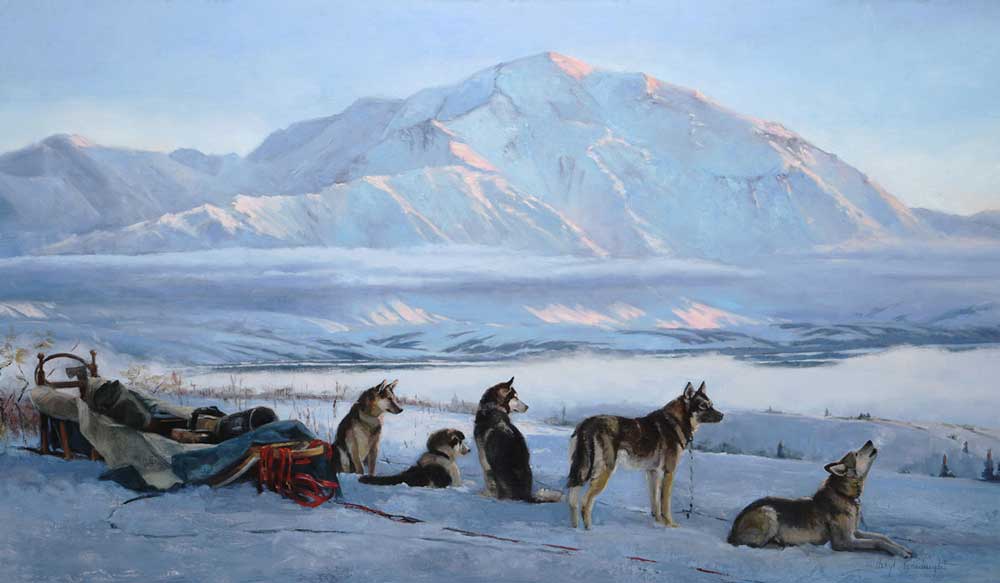 WESTERN SPIRIT – SCOTTSDALE'S MUSEUM OF THE WEST (A Smithsonian Affiliate)
3830 N. Marshall Way
Scottsdale, AZ 95251
Dr. Tricia Loscher, Assistant Director of Western Spirit, will curate an educational exhibit with five of my major sled dog paintings and one sculpture. "Sled Dogs in America" will include props used to create the art and historic text to share the little-known history of the many roles sled dogs and their drivers have had in American history.
The Gold Rush Dogs
---
If you love history, art, or dogs, this 5-minute video will give you the back story into creating "The Gold Rush Dogs"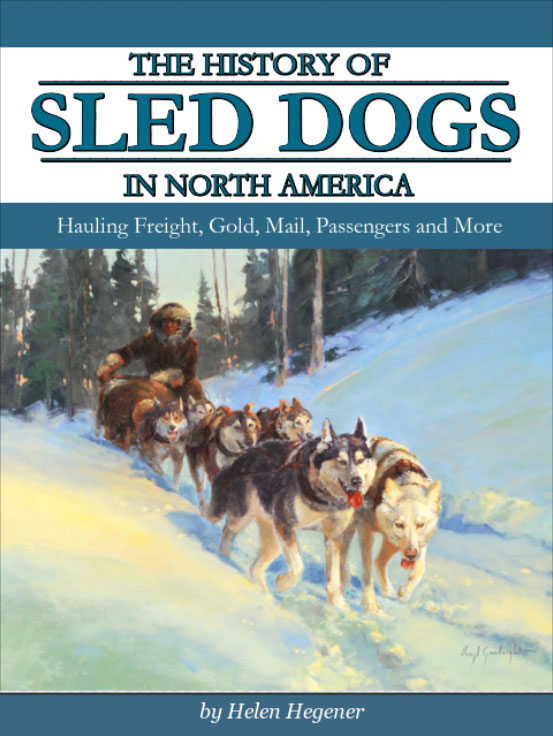 NOW AVAILABLE
---
"THE HISTORY OF SLED DOGS IN NORTH AMERICA"
By highly respected historian Helen Hegener, 
The History of Sled Dogs in North America, by Helen Hegener highlights the working sled dogs which helped shape the future of the continent.
This full-color, lavishly illustrated book features historic photographs, illustrations, and beautiful art, such as the splendid "Northwoods Journey" on the cover by Veryl Goodnight. Sixteen additional works by Veryl are included. This book is a landmark reference on the interdependence of man and dog.
SLED DOGS IN AMERICA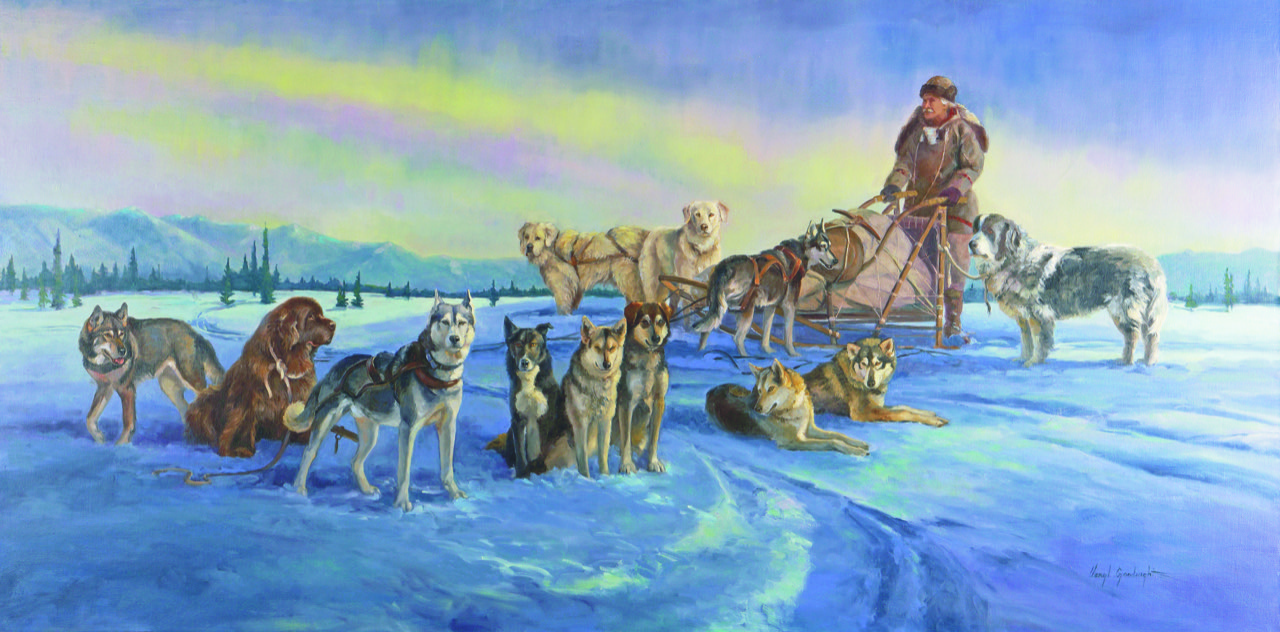 THE GOLD RUSH DOGS
40H x 80L Oil on Linen
Jack London's classic, "Call of the Wild" inspired many of us to hook the family dog to our Flexible Flier sleds. Buck was a fictional dog based on London's real time observations during the 1898 Klondike Gold Rush. A black market actually did exist for any dog "strong of muscle and with warm, long hair" that could help the gold seekers haul their gear. Thousands of dogs were stolen from "Puget Sound to San Diego" and shipped North. Newfoundlands, St. Bernards, and Great Pyrenees were among those most sought after. Watch the above five-minute video for the full story. 
OUT OF ASIA
22H x 44L Mixed Media on Paper
In "Atlas of a Lost World" author Craig Childs states: "Exactly when, where and how the first people entered America remains one of the world's most contentious Prehistoric problems." What does not seem debatable, however, is that the first human footprints on the North American continent were flanked by pawprints.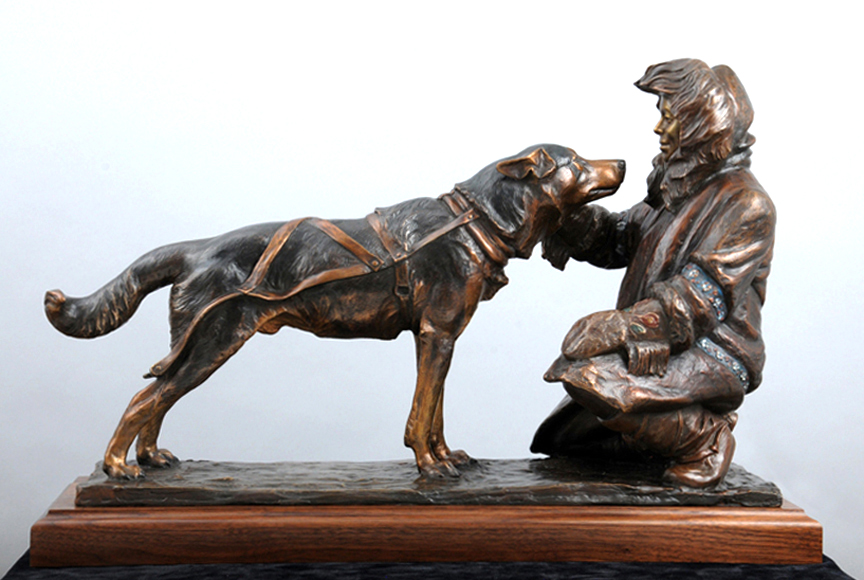 VILLAGE KINSHIP
18H x 27L x 10W Bronze
Dogs were vital to the survival of those who inhabited the North – protecting, hauling, and hunting. They were not considered to be animals, but near human.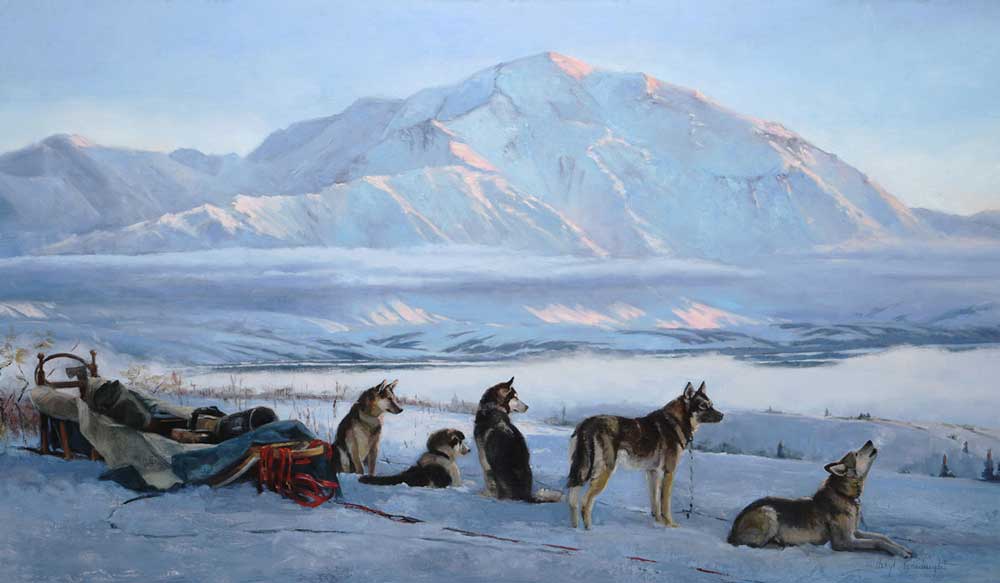 UNDER THE SPELL OF DENALI
30H x 48L Oil On Linen
In March of 2019, I had the privilege of painting along the same route that Hudson Stuck and Harry Karstens used in 1913 on the first successful summit of 20,310' Denali, North America's highest peak. That ascent, as well as previous attempts, were only possible with the aid of dog teams,
LUCKY PUPPIES – THE DENALI PARK CANINE PATROL
30H x 48L oil on linen
Each winter, Denali's Park Rangers set out into the wilderness with sled dogs. In doing so, they are connecting the past with the present and preserving both the Native and Pioneering traditions of Alaska. The Denali Canine Park Patrol celebrated their 100th anniversary in 2022.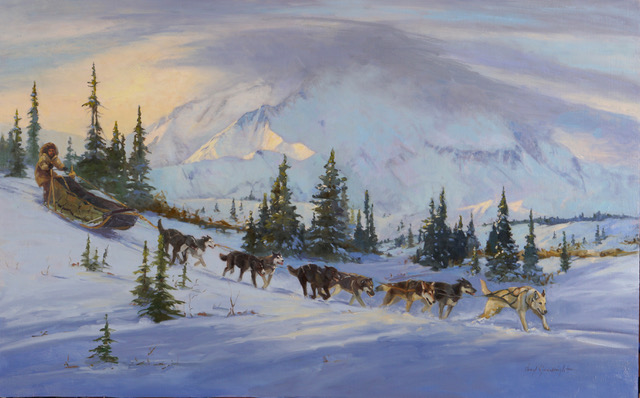 NO TIME TO SPARE
30H x 48L – oil on linen
Dog teams are as essential to climbers today as they were in 1913 for the first successful summit of Denali, North America's highest peak. Each spring, mushers haul heavy climbing gear over snow packed trails onto Muldrow Glacier ahead of the climbers. The ice bridges traversing rivers are melting earlier each year. They can collapse at any time, stranding the mushers behind raging, ice choked rivers.
SELECTED WORK  FROM PRIVATE COLLECTIONS
ANCIENT CONTRACT
20H  x 32W
HOPELESS TANGLE
20H  x 32W
NORTHWOODS JOURNEY
24H x 30W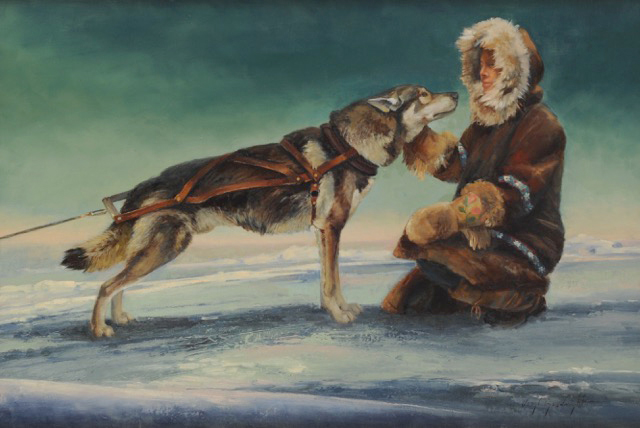 VILLAGE KINSHIP
24H x 36W
QUESTIONING THE DELAY
18H x 24W
NO MOUNTAIN TOO HIGH
20H X 16W
MARCH ON THE MAIL TRAIL
24H X 30W
SNOW COVERED TRAILS OF THE PAST
Wolves evolved into dogs a minimum of 14,000 years ago. The exact date of domestication is continually being updated through world-wide research. 

Dogs accompanied the first humans migrating from Northeast Asia to the North American Continent, first across the land bridge (Beringia) and later in skin boats. 

Dogs were the most reliable mode of transportation in snow covered regions into the 1940's. They hauled Native hunters, early explorers, miners, missionaries, doctors and many others.

The well-known Pony Express lasted only 19 months. The first mail pulled by dog teams was in 1778 near Lake Superior. The last was in 1963 in Alaska – a span of almost 200 years. 

The farthest South dog teams were used to deliver mail was in the San Juan Mountains of Southwest Colorado.

Dogs were so valuable during the Gold Rush era that a thriving black market sprang up to supply gold seekers with canine transportation. 

Wells Fargo established themselves in Alaska, using dog teams rather than stage coaches to deliver gold from remote mines in the North to Anchorage, where it continued on to Seattle by ship. 

In 1925, dog teams rather than airplanes, were called upon to deliver life-   saving serum to Nome, Alaska during a Diptheria outbreak. 

Dog teams were indispensable for Polar Explorations to both the Arctic   and Antarctic.

During both World Wars, sled dog teams were pressed into duty to haul munitions and rescue injured soldiers. They served in Alaska, Greenland and Europe. 

Denali National Park has used sled dogs to patrol the vast wilderness for 100 years. The Canine Rangers and the human counterparts cover 1000's of miles each winter.
LEGENDS OF ASHCROFT
26H x 42W

 "The Oral History of Camp Rimini by Stuart Mace documents training Search and Rescue Sled Dog Teams during World War II – first at Camp Hale in Colorado, then at Camp Rimini in Helena, Montana, and finally at Fort Robinson, Nebraska. Lt. Mace trained dogs so they could be parachuted into airplane crash sites throughout the Alaskan corridor as well as the North Atlantic corridor. He had as many as 3,000 dogs in Camp Rimini At one point, there were 70 planes that had gone down along the Alaskan corridor where the dogs, surgeons, communications person, and dog driver were parachuted in hopes of saving lives. At the end of World War II, Stuart Mace purchased some of the dogs, eventually moving them and his family to Ashcroft, Colorado. For 27 years, he would hook up 13 dogs and haul visitors into the Colorado mountains, always stressing the importance of wilderness. The classic television show "Sargent Preston of the Yukon" was actually filmed in Ashcroft with the Toklat huskies.